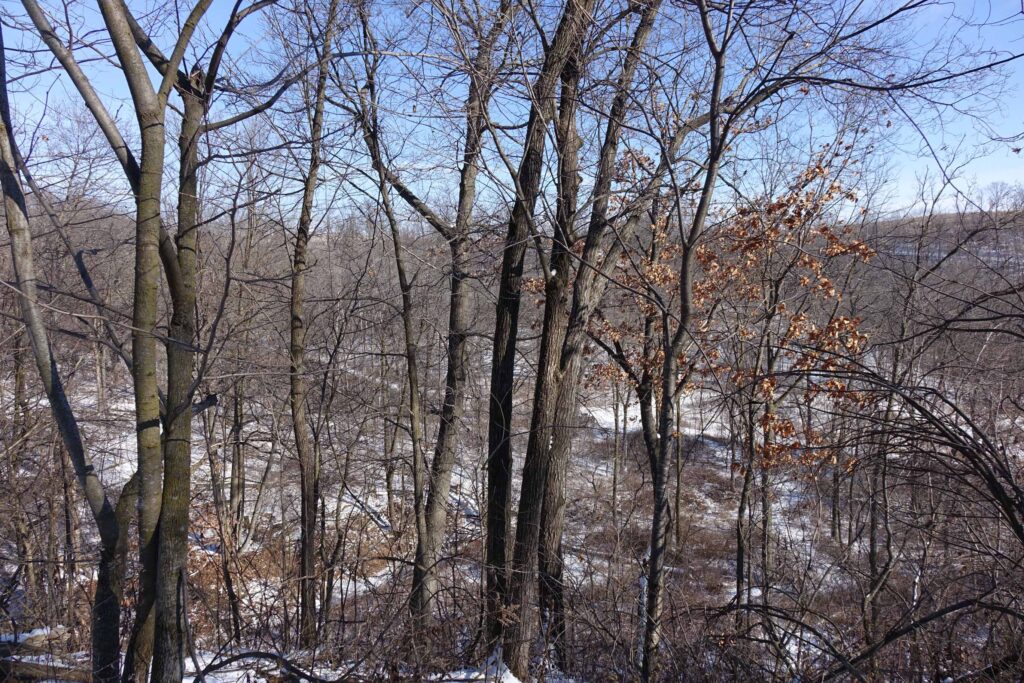 Bad Axe Chapter of the Wisconsin Woodland Owners Association
Serving Crawford, Grant, Iowa, La Crosse, Lafayette, Monroe, Richland, Sauk and Vernon Counties
Scheduled WWOA and Bad Axe Events
WWOA 2023 Annual Meeting, September 21-24. Chula Vista Resort, Wisconsin Dells, Wisconsin. Information at https://wisconsinwoodlands.org/annual-meeting
Bad Axe Board of Directors Meeting. January 23, 2023, 7:00pm. Video.
Previous Bad Axe Chapter Events
Bad Axe Field Day and Annual Meeting. October 15, 2022 at the Betty and Jeanie Kramer Farm, Richland County.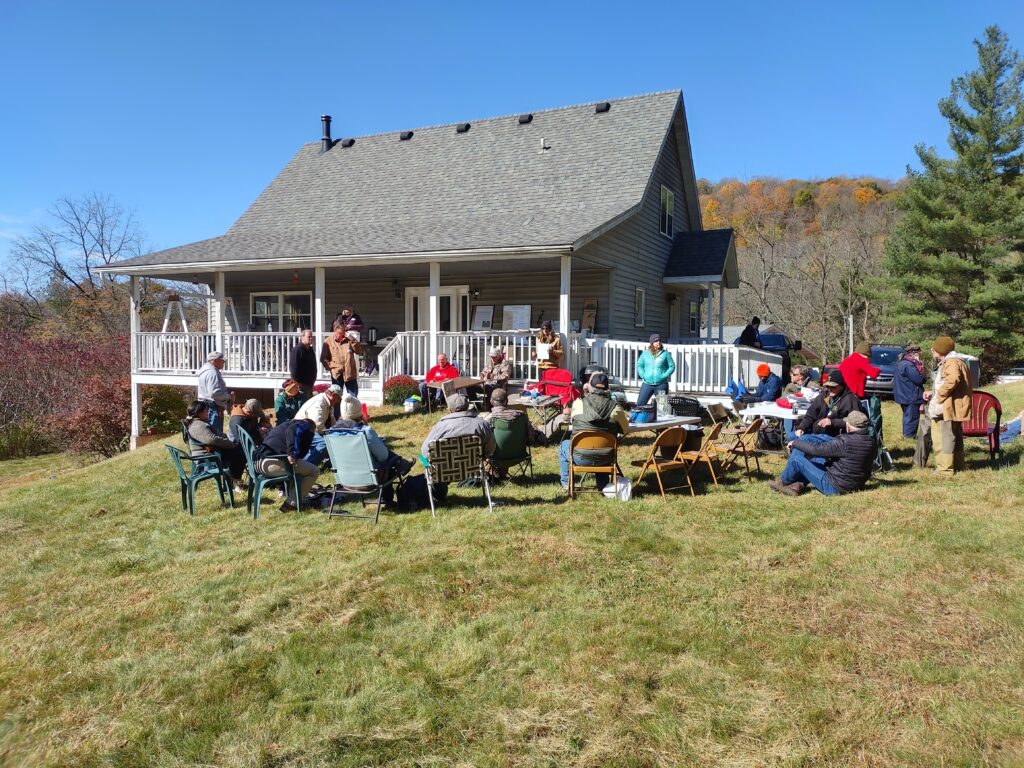 Fall has Fallen here in Wisconsin as we drove through the Driftless area to attend the October 15th Bad Axe Field Day being hosted by the Betty and Jeanie Kramer family. Their 4th generation family woodland was tucked deep into the valley where the sun came over the horizon around 9:00am. The air was crisp with the smell of Hot Coffee and donuts welcoming the members to begin the tour of informational stations on Woodland Management. This woodlot had seen fire, drought, and transformation from a small Dairy farm to a 3-step plan to create a productive wood resource for the State economy and family.
Julie Van Cleve, DNR spoke to us about Crop Tree Release. She uses the A – D grade scale when laying out the forest floor plan. Timing is important with companion trees. Tall and straight increases longevity. Randy Kelly helped with the demonstration of tree pruning.
Dan Bolin (experienced woodlot owner) had marked invasive plants with pink ribbons for observation as we walked up the hill to his station. Dan discussed three Invasive Categories:
Opportunist, examples- Prickly Ash, Gooseberry, Box Elder (male/female).Translocator- Black Locus, Eastern Red CedarExotics- Bush Honeysuckle, Autumn Olive, garlic mustard, and oriental bittersweet.
And Methodology for Control: Prevention 1oz = 1# of cure (cleaning your boots and clothes can help); Control- IVM (Integrated Vegetation Management (may require several methods or approaches); Monitor: Long lived Seed Bank (years), Trails/firebreaks (big plus)
Restore: use fire (especially Oak Savanna Natural regeneration vs planted (seed vs seedlings) or both
Dan's quote: "Go Ugly Early – Don't Ever Give Up"
Crystal Bailey of Richland CO. NRCS shared tips on preparations of Quality Pollinator Habitat.
Full sun is best location
Depending on the history of the site/garden, it will determine the type of management steps you will need to take for prepping. (Row cropping vs Sod, old CRP, established solid seeded perennials, included forested areas)
It may take upwards of 3 yrs. of burning and/or herbicides, ( probably both) to rid and/or greatly reduce unwanted competition.
It may take up to another 3 years for the pollinator species to fully establish themselves in the plot.
By Noon, the sun had warmed the backyard and valley, making for a pleasant gathering for lunch. As we concluded our lunches our final topic of discussion focused on available funding sources from the DNR, NRCS, and FSA. Julie Van Cleve -DNR and Crystal Bailey of the Richland Co. NRCS spent a good deal of time explaining programs and on the processes of applications. One of our members also mentioned he was able to get funding thru a US Fish and Wildlife Program for private landowners and special projects.
Warren & Renee Picker 10/22/2022
Walnut Council Invited Field Day. May 21, 2022.
The Bad Axe Chapter of WWOA held a short meeting right after the conclusion of the Walnut Council's Field Day at the Roger Krause Farm. Dale Parker started the meeting by reviewing some of the previous discussions about the reorganized/rigorized Bad Axe Chapter. He read off the names of the new/old board members and introduced those in attendance. Dale then introduced Jennifer, her son, and Beth Kramer, who talked very briefly about our planned field day on Oct. 15th at their place in Richland County.
With the Walnut Council having a planned Field Day Oct. 1, Warren Pickar facilitated an active discussion about possibly doing combined Field Days w/the Council and Bad Axe Chapter on occasions, especially when similar topics can be discussed and covered. One point of emphasis was that we keep the communication lines going between the two entities as much as possible. There was a consensus that would be a good thing as there are a number of members who belong to both groups.
The meeting concluded with an introduction of people present and the collection of names from people who wanted to make sure they were on the mail/contact list for the Bad Axe group. A question about membership was raised and was referred to the WWOA website.
Warren Pickar